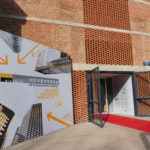 MCM Group celebrated its 28th Anniversary with hundreds of guests at the celebrated Enjoy Museum of Art, Factory 798 in Beijing. The evening highlighted MCM's current work in China as well as the company's contributions in sustainable design and cultural projects throughout the world.

For twenty-eight years the MCM Group and our strategic partners have contributed to over 2,000 projects. These projects include conducting feasibility studies and creating master plans and architectural designs in 59 countries. In 2,000 MCM added its China headquarters in Beijing and subsequently have added offices in Shanghai, Hangzhou, Tianjin, and Haikou.

MCM Group is headquartered in Los Angeles and partners with a number of world renowned companies, including PACE advanced water engineering, IMA landscape design, and CTG consulting in LEED authorization services.

Mr. Michael C. Mitchell, founder and CEO of MCM Group International, attended the Anniversary Gala along with staff from both the U.S. and China offices. Mr. Mitchell addressed the audience with a speech on the benefits of 'Experiential Design,' a design philosophy that MCM Group has been pursuing since its inception. Regarding MCM's design philosophy, Mr. Mitchell stated, "the built environment should serve to expand the human spirit, to help us understand our place in the world, and to uplift. Good design should help connect people to their world, not separate us from it."

MCM unveiled our initial 'Experiential Design Tour' for Chinese groups to see first-hand the strengths of MCM's design philosophy. In June 2012, MCM will organize a 12-day travel seminar to the United States that will travel through California and Nevada visiting and learning from highly successful projects.