December 12, 2017, Beijing, China. MCM Group International (MCM Group), led by the company's president, Michael Mitchell, revisited the children at the Yutian Hearing Speech Rehabilitation Training Center (Yutian Center) in Beijing, bringing Christmas gifts, warming the children's spirit in the cold winter.
MCM Group's staff and the children shared a wonderful yuletide, weeks ahead of Christmas Day. Dressed up as Santa Claus, Mitchell created holiday art with the children, decorated the Christmas tree and distributed gifts to each child. The children loved Mitchell's welcoming humor, charm and friendliness. With the children gathered, Mitchell lit the Christmas tree. The sparkling lights flickered, whimsically creating a festive atmosphere. Behind the scenes, Mitchell donated to the school.


MCM Group's staff contributed to the cheerful atmosphere, sign dancing for the children, realizing that silence is ebulliently powerful and that the curve drawing by both hands is the most beautiful symbol. The children freely joined the dance, waving, swaying and jumping in synchronicity. The principal shed tears of joy seeing the children so happy and engaged.



During cordial talks with the Yuntian Center, Mitchell learned that although the children experienced various degrees of hearing and speech challenges and sometimes were unable to express themselves clearly, they still are happy. Even though they could not hear or could not tell their thoughts, they have their own splendid world.


Mitchell took his staff to the hearing speech rehabilitation center, where the principal shed light on their program, which aims to cultivate the children's professional and survival skills. The school incorporated training through the Deaf Child Bakery, developing children's abilities through baking cakes, biscuits and other handmade pastries. Deaf Child Bakery will sell these products throughout the country, following strict food inspection. Mitchell added that the program will not only help rehabilitate the children, it will also provide them with the skills to interact with the hearing/speaking world, solving the problem of future employment.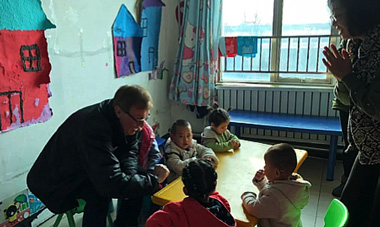 MCM Group continues to support charity projects, to let these special children build confidence in life.

Over the years, MCM Group "makes the world more beautiful", through regular charitable activities, practicing social responsibility and compassion, bringing warmth and hope to the people who needs it most. MCM Group advocates others to join in public service to help groups in need.

To support the Beijing Tianyun Hearing Speech Rehabilitation Training Center, contact Principal Quan at 13910757456.