OUR MISSION
MCM Group firmly believes that all children deserve every opportunity to fulfill their potential and to experience life to its fullest. MCM Group has had offices in China for the past two decades and has developed MCM Cares to help children with special needs lead more all-embracing lives. Woods Services, which has been providing services to special needs children in America for 106 years, has joined MCM to provide a full spectrum of services for children in China with special needs.
WHO WE ARE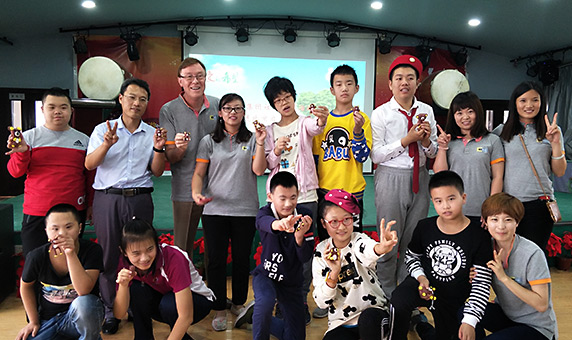 MCM Group and Woods are U.S. based service organizations with world leading expertise in the design and delivery of programs to meet the needs of children with special needs, ranging from mild to severe. Woods is the world's oldest Special Education program. In addition to serving thousands of special needs children Woods has its own robust training institute and many partnerships with international leading U.S. institutions of higher education, nursing and medical schools including the University of Pennsylvania Schools of Medicine and Nursing and Hospital System, the Albert Einstein Medical Center, Thomas Jefferson University and Jefferson Health System, St. Christopher's Hospital for Children, Children's Hospital of Philadelphia, to name just a few of Woods key strategic partners.

These partnerships enable our team the ability to provide certificate training programs, as well as to host and supervise students in special education, allied therapies, medicine and nursing, psychology and behavior analysis. This collaborative approach allows us to provide on-going mentorship and supervision of professionals entering the fields supporting Special Needs children, as well as helping existing professionals improve their skills in working with people with special needs.

Furthermore, these strong relationships with leading universities and hospitals give us access to the most innovative research and development in Special Education.

Additional resources can be provided through MCM's other Special Education partnerships with U.S. Special Education Teacher Programs and private online learning software companies specializing in Autism and Learning Disorders.

These strengths can be leveraged and applied to address the vast special educational needs in China by forming partnership with organizations in China that can use our expertise to provide Special Education programs to this population. We offer a partner organization the following program support, which can be utilized in whole or part:

A. Training
Provide on-site training programs in China for special education teachers and support personnel
Identify specific content areas and create online training courses or modules (webinars or video)
Create programs (i.e. 2 – 4 weeks) for Chinese teachers to be trained in-person at Woods
Provide U.S. professional Certificate and training programs, which could be delivered through a range of modalities including an online learning platform, video, real-time virtual classes, and written materials and tools.
B. Teaching materials and methods
Compile, review and provide global evidence-based and effective teaching materials and methods (in all subject areas)
Evaluate and provide best methods of delivery
Compile and provide best practices for incorporating special subjects (art, music, equestrian programs, horticultural, etc.)
Compile and provide best practices and programs for life skills instruction
C. Allied therapies
Compile, review and provide global evidence-based practices for occupational therapy, physical therapy and speech therapy
Provide best methods of delivery (i.e. how these are integrated with other services, online methods, etc.)
D. Assessment and diagnostics
Compile and provide best global evidence-based
assessments and diagnostic tools
Identify best methods of training professionals to use these assessments and tools
E. Demonstration pilots
Design pilot special education schools or demonstration programs within schools with integrated clinical services (Occupational, physical and speech therapies, behavioral and mental health therapies)
F. Academic certification programs
Assist pilot institutions to establish international certification programs with the best academic special education programs, including online and on-site programs.
Establish regional special education teacher training centers in China in collaboration with one of our affiliated American academic institution resulting in academic certifications
Develop key components of university-based special education certification program for teachers focusing on core areas – assessment, individualized education plan and instruction, curriculum resources, instructional technology, behavior management, classroom management, etc.
G. Parent training
Review, assess and provide training programs design to assist parents in supporting their children's education, communication skills, etc.
Develop parent training curriculum which could be delivered through in-person, facilitated workshop series, or online.

CONTACT US
If you are interested in learning more about MCM Cares or participating in our program, please contact us at our Beijing office:
China: 010-6276-8156
Email: mcm @mcmgroup.com