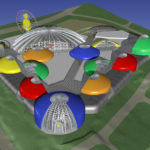 MCM Group finalist in international competition for the Erdos Cultural Children's Park. The program is an urban cultural center of Erdos themed as a Mongolian Yuan (Dynasty) Cultural Children's Park. The project will focus on the regional culture industry and tourism. The goal is to create one of Northwest China's leading children's tourism destinations by building the largest culture industrial base in the region.

The 500,000 SM base will include science education themed amusement, performance, the environmental arts, competition facilities, shopping and dining in one integrated facility. The facility creates a unique and comprehensive tourist destination integrating children's edutainment (a combination of education and entertainment) with leisure for the family as a whole. This facility is destined to become a leading tourism destination of China.

The Edutainment Project entails four diverse and unique design principles. They include combining the best of entertainment and learning environments to create a leading international example of edutainment and creating a world-class lifestyle center by integrating the amusement and edutainment components with retail and dining. In addition, utilizing Mongolian cultural elements to abstractly represent a Mongolian Yurt Village. The theme is a fitting symbol for a national-class tourism destination.

To further compliment the Edutainment Program, MCM has designed a 70,000 SM, multi-layered indoor amusement park. The park is divided into five main areas:

Children's Area – for young children;
Fantasy Area – a water-based tropical paradise;
Wonder Area – a walk-through survey of the world with party rooms for birthdays and special occasions; and a
Speed Area – providing children with the thrill of motor sports.

There are four primary edutainment environments which include a Cultural Showcase where both the world of the past and the contemporary world meet – from Ghengis Kahn to exploring our digital age. The Science & Technology Zone where youth interactively experience the thrills of space flight, exciting discoveries, and robot challenges and games. Nature & Animals Zone allow for the experience and wonders of nature with a one-of-a-kind performance bird show (where they actually perform a play without trainers) and relaxed dining in a warm tropical garden on a cold winter day. Here, they may additionally participate in a dinosaur dig while the thrills of nature are brought to life in a fun-filled atmosphere. Lastly, Sports & Entertainment is a family centered area where whole families can play delightful games together.

Additionally, central to the design concept, theme, and style was the utilization of the rich tapestry of the Mongolian culture including its use of beautiful and vibrant color. Finally, the client wanted to create a world-class lifestyle center by integrating all of the elements – the amusement and edutainment components and retail and dining – into one compelling destination.