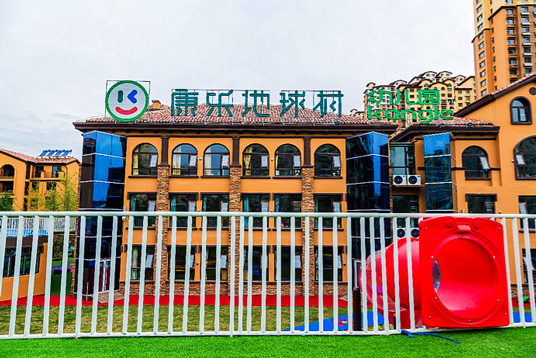 May 4, 2018, Beijing, China. MCM Group International (MCM Group) designs the Kangle Kindergarten (Kangle), giving versatile experiences and adventures for the children in Yantai prefecture of Bohai Strait, the northeastern part of Shandong Province, China.


With the design goal that "A good kindergarten facility is a third teacher to a child", the kindergarten's design needs to be fully integrated into the development of a residential district. Squeezed by confined space with the priority to building more housing and the constraints of regulations, kindergartens face the dilemma of limited space. Yantai shares the same development predicament. In planning for the Kangle Kindergarten, MCM Group considered the limited space enclosed within the residential area, designing the kindergarten based on the core strategy of "concession" to ease the tension between the kindergarten and the surrounding high-rise buildings, thus creating an ideal place for children.


CIRCULAR PASSAGE FOR THE RECREATIONAL GROUND

The circular passage features a multi-purpose center that embraces the main building and connects every single classroom. The passage is intentionally widened to elevate its status as a passage area into a playground, encouraging children to linger at the facility to interact and play.


ACTIVITY PLAYGROUND

Natural material make up the Activity Playground, with all of its Exercising and Game Zones integrated into the landscape design of rubberized turf and grassland. The Game Area inspires play with a sandpit, a cave and a climbing structure. Children enjoy an option to access the playground from the building's second and third floor via a slide, creating a fantasy adventure. The placement and form of the slides sparks physical exercise, trusting that children will run up floors to slide back down and repeat. It's anticipated that children will slide on average of 10 to 20 times a day. The playground prompts independent and group play of 2 or 3 kids.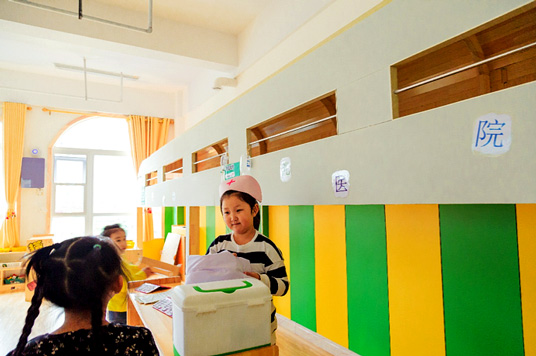 LEARNING SPACE

The interior space remains traditional in the sense of its mission as a kindergarten, but with the elevated nature of twists and considerations of the topography, responding to the sunlight and Activity Playground. Our designers took advantage of the potential of each irregular space, designing the interior to fuse with the landscape, which optimized the space accordingly.


Our team designed with the idea that the children "own" the kindergarten, totally respecting and considering the children's needs, so that the children acquire a sense of belonging..


As a supporting project of commercial development, costs and design management limited this kindergarten. MCM Group aimed to design with discretion and simplicity, relying on fundamental principles of design for function. The design organized functions, created fun spaces, shaped light lending to the inherent nature of the building and materialized a world for children to study "without limitations".