Tianjin, PRC, July 12, 2012. The MCM Design Team was selected as one of the five finalists in an international competition to present a renovation plan for Minyuan Stadium to the Tianjin planning and city leadership. Minyuan Stadium holds particular importance to the ten million people of Tianjin.
Minyuan is one of China's oldest stadiums having served the Tianjin community with local and national events for over eighty years. Eric Liddell helped build the stadium when he was a missionary in Tianjin, modeling it on Stamford Bridge of London, which was Liddell's favorite athletics venue. Liddell was the winner of the men's 400 meters at the 1924 Summer Olympics in Paris where he set the world's record.
Often called the "Flying Scotsman" he was born in Tianjin in 1902 and lived in Tianjin until the age of five, when he was enrolled in Eltham College, England. He then returned to China after the Olympics where he spent the remainder of his life. He is often considered the first person from China to win an Olympic Gold Medal. His life was famously depicted in the Oscar-winning 1981 film Chariots of Fire.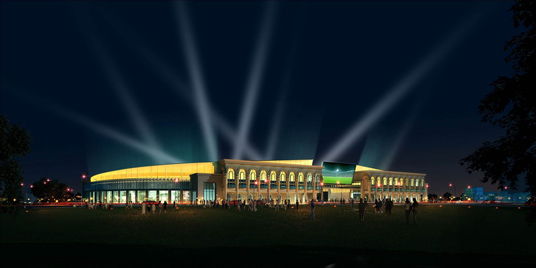 Following his death in 1945 Liddell's remains were placed in the Mausoleum of Martyrs at Shih-Chia-Chuang, 150 miles south-west of Beijing, where China honors 700 respected individuals who made the ultimate sacrifice in the liberation of China from the Japanese. He died as a prisoner of war fighting for Chinese prisoner rights.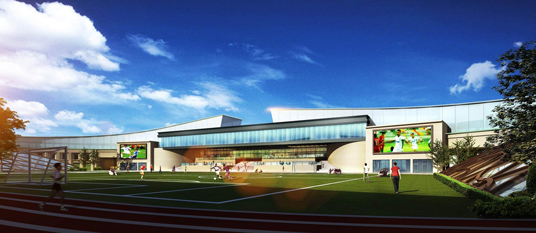 Because Tianjin built a modern football stadium, the community wanted to preserve the historically important Minyuan stadium but no longer needed it for competitive sports. They sought design ideas to make it a long-term community resource. MCM responded to the design challenge by preserving elements of the old structure, but included in our design such features as a sports museum, historical interpretive center, fitness facilities, restaurants, a meeting center, and commercial space which both preserved the historical importance of the facility, but also provided the community with as valuable daily resource.
MCM gave a final presentation on July 12th. The design concept was highly praised by the reviewers after the presentation.