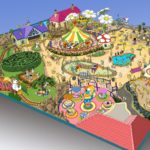 MCM wins competition for the design of the outdoor Snoopy Amusement Park in Beijing. The park is designed to become an iconic feature of the Qinghe Gongjian Shopping Mall providing children with year-around entertainment.

MCM Group was selected, in part, for its extensive experience in attraction design, and having worked on multiple children's projects throughout China. MCM has worked on dozens of theme parks and attractions throughout the world. As lead architect Juan Gutierrez notes, "MCM Group is exceedingly cost-conscious in creating, exciting attractions while minimizing expenditures, and delivering in incredibly tight deadlines." The park design from Concept through Construction Documents is due in the spring of this year.

The Outdoor Snoopy Amusement Park will be an open venue with free admission. Composed of ten distinctly unique main areas, the park is themed around Charlie Brown's backyard. Bright colors and bold graphic designs create an atmosphere of great fun with high energy. The entrance of the park is Snoopy's Dog House that opens onto a raised platform with a view of the entire park. Larger than life Snoopy characters welcome visitors and tall flower sculptures embellish a puppet theater made from a school bus.

Additional activities and structures include a Snoopy train and Peanut characters playing an array of sport activities. Adjacent to the train ride is a garden maze and nearby is a toddler's playground. The center of the park is a large Snoopy themed carousel. MCM works closely with Chinese ride manufacturers to ensure high quality, entertaining attractions that can be delivered on budget and in a timely manner.