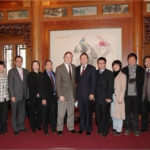 Michael C. Mitchell, Chairman of MCM met with the President of Peking University Mr. Zhu Shanlu, Party Secretary and head of Council of Peking University. Also, in attendance were
Li Yansong, Vice President of Peking University; the Director of the office of International Relations, Hongwei Xia; Associate Dean of the College of Architecture and Landscape Architecture in addition to several department heads.

On behalf of Peking University, Mr. Zhu, expressed a warm welcome to Mr. Mitchell . Mr. Zhu elaborated on his admiration of the firms work in China and specifically recognized MCM Group's contributions on environment protection and culture preservation. He also expressed his appreciation for MCM's unique contributions and expertise in architectural and landscape design, tourism planning and Support of Chinese culture.

Mr. Zhu commented that: "Peking University has remained open to progress toward collaborations with leading international universities, research institutes and companies who uphold an international vision. We hope by way of this opportunity, Peking University and MCM Group can work together to facilitate various programs, including design and student internship programs." Mr. Zhu believes that mutual cooperation will assist the university in its goal to be a world leading research and educational institution.

Mr. Mitchell and President Zhu discussed joint collaborations with the university on the protection of culture heritage and tourism development programs. Mr. Mitchell invited students from associated disciplines to complete an internship at MCM's Los Angeles based headquarter. MCM also hopes to develop a research program with the university focusing on cultural heritage and environmental protection.

Following the meeting with President Zhu, a working session was held where Mr. Yu Kongjian, Dean of the School of Architecture and Landscape Design, Ms. Lv Zhi, Director of Research and Training Center of Asia Pacific World Heritage under UNESCO, Mr. Liu Xiao, Din Assistant of Guanghua School of Management, Mr. Wu Bihu, Director of Tourism Research and Planning Center, and Mr. Xia Weihong, Head of International Cooperation Department, attended to discuss how to implement specific programs.

Since 2009 Mr. Mitchell has been an invited lecturer at the University's College of Architecture and Landscape Design.