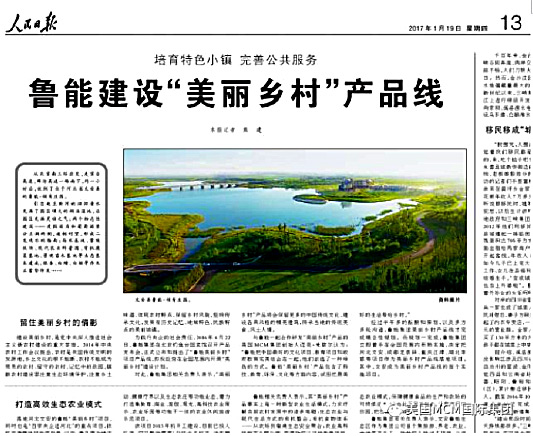 People Daily reported in great length about MCM designing the "Beautiful Countryside" product line for Luneng Group on January 19, 2017.


Maintain the Features of Beautiful Countryside


January 19, 2017, Beijing, China. To build beautiful countryside is an important measure by CCPCC (Chinese Communist Party Central Committee) to further the development of socialist new countryside. The Central Rural Work Conference in 2014 pointed out that the rural areas were the birthplace of China's civilization and the root of the rural culture should remain unharmed. The countryside could not become deserted, left-behind or only exist in memories. The new countryside development should pay attention to environmental protection, the maintenance of rural customs, features, styles and cultural inheritance, with a goal to build beautiful towns of historical memories, regional characteristics and ethnic features.


To fulfill the social responsibilities as a state-owned enterprise, Luneng Group held a product launch conference in Diaoyutai State Guesthouse in Beijing on April 22, 2016 and officially announced the "Luneng Beautiful Countryside" project product line and its plans to make huge investment to carry out the "Beautiful Countryside" program across the country.


The relevant person in charge from Luneng Group shared that their "Beautiful Countryside" products would retain more Chinese traditional culture, create exquisite buildings with different styles and inherit local traditional cuisines and customs.


Michael Mitchell, Founder of MCM Group International in collaboration with Luneng Group to develop the "Beautiful Countryside" product line, believed, "Luneng has perfectly integrated China's best cultural and educational projects with the government policies. They have created a green approach. 'Beautiful Countryside' Product Line includes science and technology, education, environmental protection and cultural components, etc. and endeavors to bring the best lifestyles to the countryside. "


Through over half-a-year preparation and programming as well as many-round consultations with different parties, Luneng Group finally completed the conceptual planning. Once the planning was in place, Luneng proceeded immediately with the implementation across the country. They decided to execute the "Beautiful Countryside" product line in the projects in Wen'an in Hebei, Longquanyi in Chengdu, Jiangjin in Chongqing and Xiaogan in Hubei, with Wen'an to be the first to start.